The classic fortune teller, reinvented
Characters Unlimited, Inc. has improved upon the classic fortune telling machine by incorporating low-maintenance animatronics, modern technologies, and excellent craftsmanship into a beautiful product that is built to entertain for decades to come.
We make fortune telling machines of many themes and styles. Every fortune teller is made-to-order and can be customized to your satisfaction.
Fortune telling machines are perfect to use as an attraction at your place, a revenue generating machine, or as a marketing or promotional tool. Fortune cards can be custom printed with your logo or promotion. Let us make your brand figurehead, mascot or store theme come to life with our custom fortune telling machines!

---
Select your fortune teller model
We have 3 Fortune Teller models and sizes for you to choose from.
The Standard Model
Starting at $8,300, our most popular fortune teller model includes the following:
Eye, Head (up & down), and Arm Movement (side to side over crystal ball)
Talking function with 16 different spoken messages
2000 cards with 55 different fortunes
Fortune card dispenser and dollar bill acceptor
Lighted glass ball, jewelry, genie lamp, wooden flute, and various trinkets
Can be made to accept any currency, credit cards or free play
Measures: 77"h x 27"w x 25"d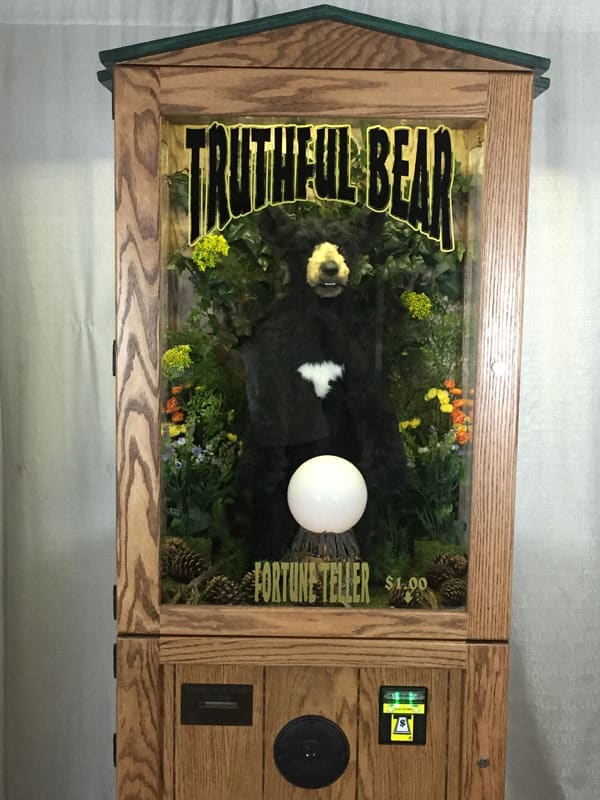 ---
Upgrade to the Deluxe Cabinet
At $8,900, our Deluxe model includes the same features as the Standard model however, the cabinet is larger and more lush.
Deluxe cabinet measurements: 77"h x 33"w x 28"d
---
The Economy Model
Starting at $6,800, our least expensive fortune teller machine includes:
Eye movement and talking function
Fortune Card dispenser
Lighted glass ball, jewelry, genie lamp, wooden flute, and various trinkets
2000 cards with 55 different fortunes
Measures: 77"h x 24"w x 24"d
Customize your fortune teller in these easy steps
All of our fortune tellers are made to order. Follow the steps below to order your dream fortune telling machine.
1
Choose fortune teller theme/character
Pick from fortune tellers that we have made in the past or create your own.
2
Choose cabinet size & model
Select your fortune teller model: Deluxe, Standard, or Economy
3
Choose cabinet stain or paint
Specify the stain or paint color you would like on your fortune teller cabinet.
4
Add wheels
Specify whether your machine needs to be on wheels or not
5
Add messages
Decide if you want custom messages for your machine and if you want to add a wireless microphone to speak live through the fortune teller.
6
Choose activation
Specify if your machine will need to take coins, paper money, or just a free play button
7
Select fortune cards
Decide whether you will need custom fortune cards made or if you will use cards that we always have in stock (each machine includes 2,000 of these).
8
Customize
Decide if you will need additional features like an attract message, a wireless microphone, motion activation, a travel case, an additional lock, etc.
View Complete Pricing and Options
We have made a variety of fortune telling machines.
See fortune telling machines that we have made in the past